Welcome to our class page. Keep checking back to see all the fun things we've been learning.
Summer Term
The half-term has flown by and we have packed in so many fabulous activities. Most recently we had a great Forest Family Friday and it was fabulous to see so many of you supporting your child's learning. A great time was had by all and your positive comments and feedback were greatly appreciated.
As part of our 'bears' topic we visited Fingringhoe Wick to have a teddy bears picnic. We enjoyed our picnic lunch and our teddies had a great time! Whilst at Fingringhoe we learnt about our 5 senses and used all of them in the wildlife garden. Sight - we searched for caterpillars and thought about which colours were best and worst camouflaged. Hearing - we stopped and listened to the world around us, which are natural and man made sounds? Taste - eating our picnic and thinking about words to describe the tastes of our foods. Smell - we made our own smelly cocktails by mashing up different leaves, petals, herbs and soil we found in the garden. Touch - we went on a touchy feely walk and described the things we found, each time we found a new word to describe an item we placed it in our egg box to share with the rest of the class later.
We had some special visitors to our class - some eggs! We observed the eggs for several days and had lots of interesting ideas about what might hatch out of them (dinosaurs, chicks, seagulls and turtles!).
After an anxious wait the first egg began to hatch and out came............... a chick! The children named her Stephanie and eagerly awaited the arrival of her brothers and sisters. 10 chicks hatched, 5 boys and 5 girls and we were able to use them to enhance learning in all areas of the curriculum. We discussed the size and weight of the chicks, we wrote about how they changed and their life-cycle and we used magnifying glasses to look at them close up. A favourite activity for the children was caring for the chicks - giving them fresh water and food and cleaning out their box. Some of us even made our own chick enclosures - including tunnels, slides and see-saws for them to play on! Emily and Joe J made a "chick clubhouse for the chicks to use to chill out in!"
We recently had our second Family Friday of the Spring term. This time our focus was 'maths around the home'.
Thank you to all the parents and carers who attended the morning. The children really enjoyed sharing all the maths activities and ideas with you, both inside and outside the classroom.
We hope you have had a chance to recreate some of the activities with your child, to help them create a love of all things mathematical!
This term we started learning about measuring. We have learnt the words longest, shortest, longer, shorter. We have used lots of different items to measure with, including lego bricks, multilink cubes, hands, feet, tape measures, rulers and metre sticks. We discussed jobs which we might have when we are older which would include measuring.
"a builder" Freddie T
"cooks and chefs to measure the pastry" Bella
"teachers and Mr John the caretaker to make the fences and paths" Ethan
"road workers" Freddie G
We celebrated Chinese New Year.
Watch our class Chinese Dance Video below.
Emily shows what she knows about 3D shapes, saying "it's got 2 circle faces at the ends. It is a cylinder like a tin can."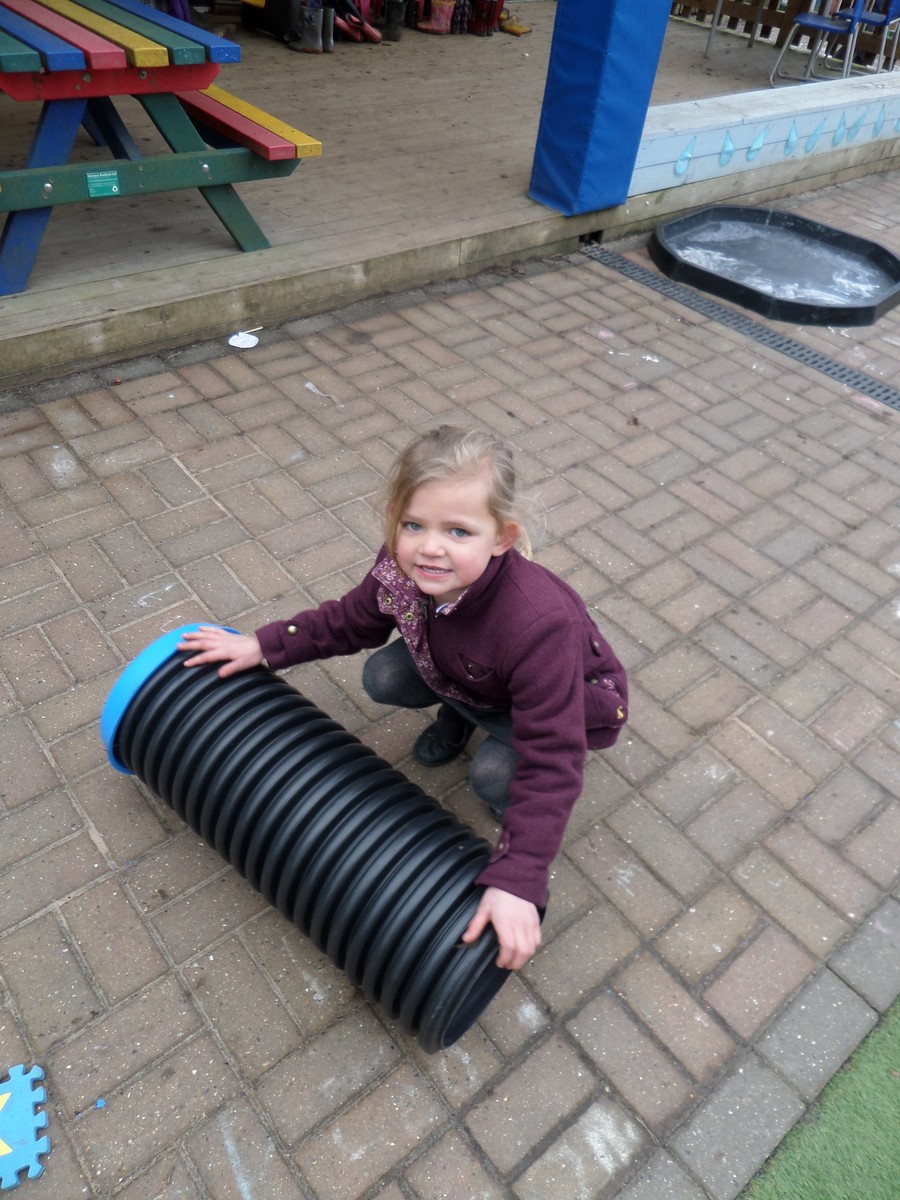 We have had fun bird watching during National Birdwatch week. We created our own birdwatch groups and worked independently to record our findings!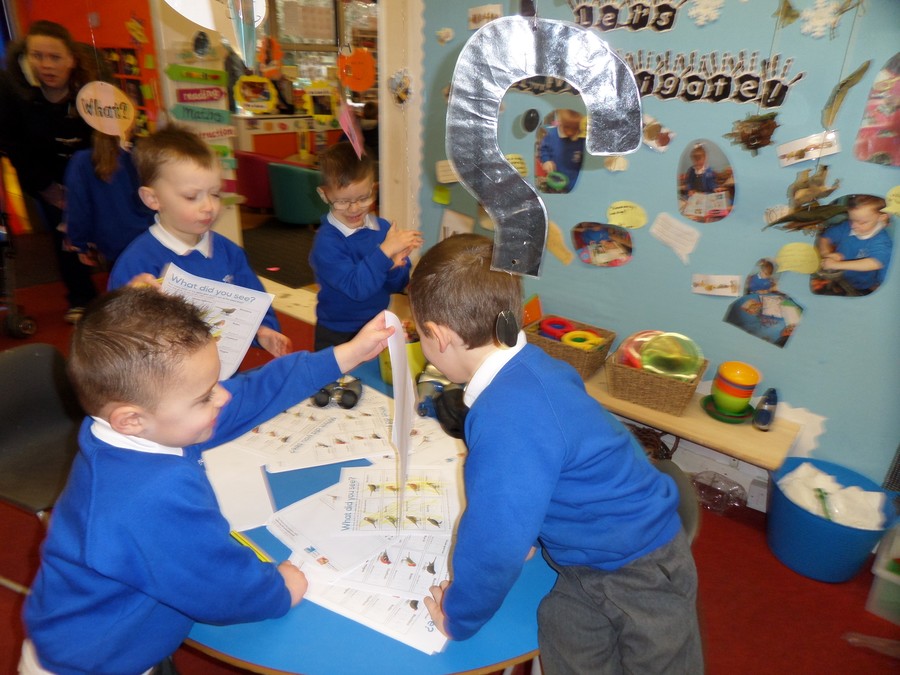 During the Spring term we had a very enjoyable Family Friday with a reading focus. We shared Bug Club with our parents and carers using laptops and the interactive whiteboard. We enjoyed sharing our learning journeys and writing books with our families as well as introducing them to the magic key stories we enjoy in school. Family members were invited to take part in a letters and sounds session with their children, which allowed them the opportunity to see how phonics is taught within EYFS. Thank you to all the family members who attended Family Friday, it was lovely to see so many of you supporting your children and the school. We look forward to the next Family Friday which will have a maths around the home theme.
A highlight this term has been our trip to Clacton library. The children were able to learn about all the different resources within the library and were keen to share books with the adults on the trip. All the children were keen to visit the library again with their parents and carers. Since we returned from our trip the children have enjoyed reading in different areas of the classroom and some of us have even visited the nursery and read to the children there!
The Spring term has already been very busy and we have loved our topic of transport and travel. The children loved reading Jill Murphy's story - Whatever Next! They enjoyed sequencing the story and had great fun working in groups to turn our own cardboard boxes into vehicles. These included shiny racing cars and long pink limousines!
Autumn Term
We enjoyed inviting our parents to visit our classroom for our first Family Friday! We baked cakes, shared our learning journeys, taught our parents about Numicon and also enjoyed junk modelling!
Look how much we've learnt in our first weeks at school!
We have all been practising writing our names and have been making the most of the warmer weather. We have practised forming letters in mud, shaving foam, coloured sand and chalk and paint.
We have been practising counting accurately and have enjoyed number hunts around the school. We even found numbers on the playground!
"There's numbers on the phone" Mia
"When I go to the shop with Mum I see numbers everywhere!" Jack
"On an ipad I can get numbers, they're not there all the time they just get on there by magic!" Freddie T
Joe J said "school is better than nursery inside and better than nursery outside too!"