Welcome to our class page. Have a look around to find out what we have been learning about!
Summer term 2
During the summer months we have been focussing on exploring the changing environment around us. As ever we have enjoyed lots of outdoor learning and we were all very excited to go on a trip to the beach! At the beach we were given some time to explore and play safely with our friends. The adults supervised us to go for a paddle and we made lots of observations about what we saw, heard, felt and smelt!
We were all very excited about our some new visitors! We had some real eggs delivered to our Early Years classrooms and we enjoyed looking at them in the incubator and observing the changes that began to occur! Lots of us were very excited about seeing the cracks beginning to appear and we felt very protective over the eggs! They helped us learn about caring for living creatures and talking about similarities and differences between animals. We had 10 eggs in total, 5 boys and 5 girls. The children enjoyed making houses for the chicks using junk modelling materials, drawing pictures of them and taking photographs of the changes they could see.
Summer term 1
Our topic focus this term was bears. We enjoyed exploring many texts about bears, including the traditional tale Goldilocks and the Three Bears. This also helped to extend our learning in maths as we explored size, weight and capacity based on the events in the story.
Using events from the story we explored 'Stranger Danger' and asked PC Williams to come in and talk to the children. They enjoyed this greatly, especially as some of them got to try on his hat! This visit helped to improve the children's understanding of how to keep themselves safe and what to do in an emergency. We hope some of them shared this information with you at home!
"You have to hold your mummy's hand"- Kayla
"You might get lost if you walk off"- Lilly-May
"You don't talk to strangers if you don't know them"- Coby
"Be careful in case they are bad people"- Lewis
The highlight of the term for all of us was our Early Years trip to Fingringhoe Wick. During the day we took part in a range of activities outdoors including making smelly plant cocktails, going on a bug hunt and craft activities. We had a lovely picnic with our classmates and the best part of the day for many of us was the exciting bus journey! All of the children behaved impeccably and were an absolute credit to the school. What an amazing day and chance to take our learning out into the local community.
"I saw a massive bug!"- Harvey
"It smells of loads of flowers!"- Daisy
"It's rose petal lovely"- Marnie
"It's got ten legs- it's a centipede"- Coby
Spring term 2
As we move into warmer months our topic focus has been minibeasts and growing.
In order to develop our knowledge of the world around us we have been spending lots of time in our garden area and in the forest, linking our learning to the outdoors. We have planted the flower beds in our outdoor area and look forward to seeing them grow...
Our Author of the Month is....
Eric Carle
In literacy we have focussed on The Very Hungry Caterpillar story written by Eric Carle. Some of us wrote our own alternative endings to the story, using our extended knowledge of letters and sounds to help us write. Above are some examples of our work.
As this story has a focus on days of the week, we linked our literacy learning to our maths work and thought about what we do on different days of the week.
"I go swimming on Friday after school"- Henry
"Saturday is the weekend and I play my game"- Ronnie
"I went out with daddy on the weekend days- Saturday and Sunday!"- Cody
"We come to school on Monday"- Lexi-May
To develop our learning at home we were set a project to make a very own hungry caterpillar as a homework project. We all worked very hard and special thanks must go to the grown ups who helped us. We now have a lovely hungry caterpillar display in our computing area and lots of us have been inspired by it to do some writing on the computers. We also enjoyed showing them in our class assembly, along with showcasing our spring chicken dance! Thanks again to all of the adults who came along to cheer us on.
At the end of term we enjoyed a hungry caterpillar picnic. The wet weather did not deter us and we all had a great time picnicking inside! Here are some of our thoughts about this special day and how we made our caterpillars:
"My granddad cut it out and my grandma put pegs on them"- Gracie
"First I put Ready Brek boxes and then I put glitter on it"- Tamsin
"Mine is green string and card inside"- Coby
"First I put the tissue round, then I put paper inside"- Phoebe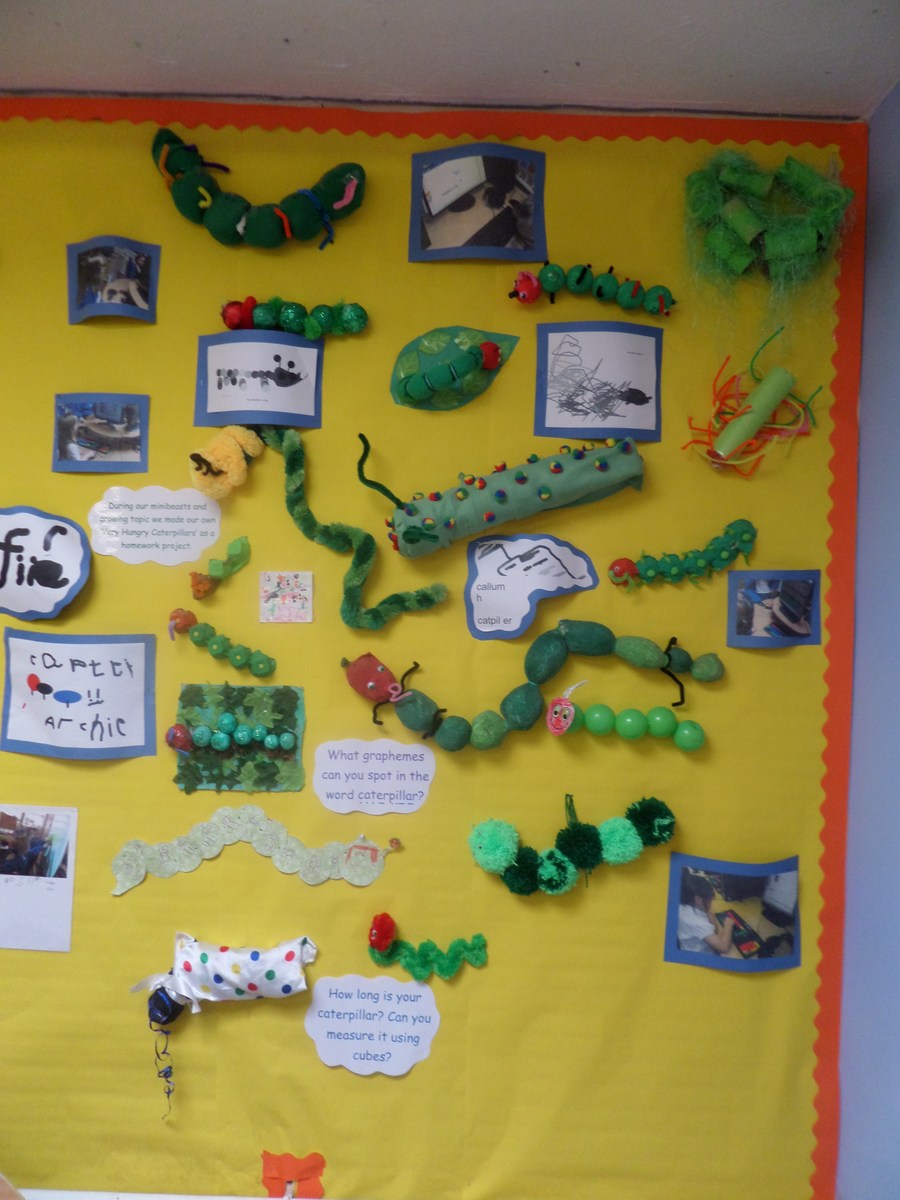 Spring term 1
After an exciting Christmas we came back to school eager and ready to learn! Our topic for the term was travel and transport. We learnt about the Whatever Next! story and wrote about space adventures. Some of us began to explore two digit numbers and worked on finding one more/ one less based around our topic.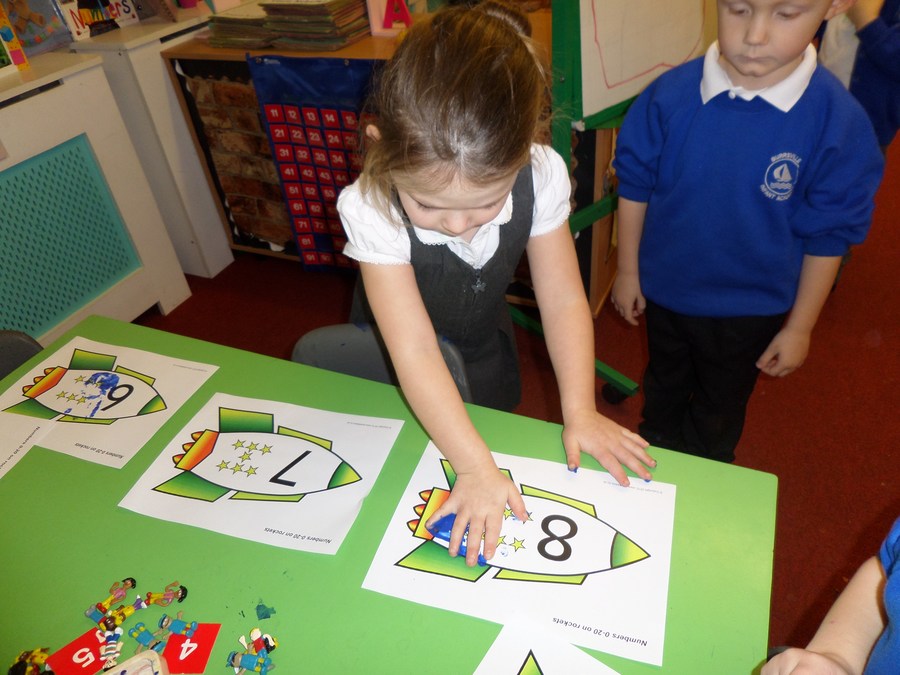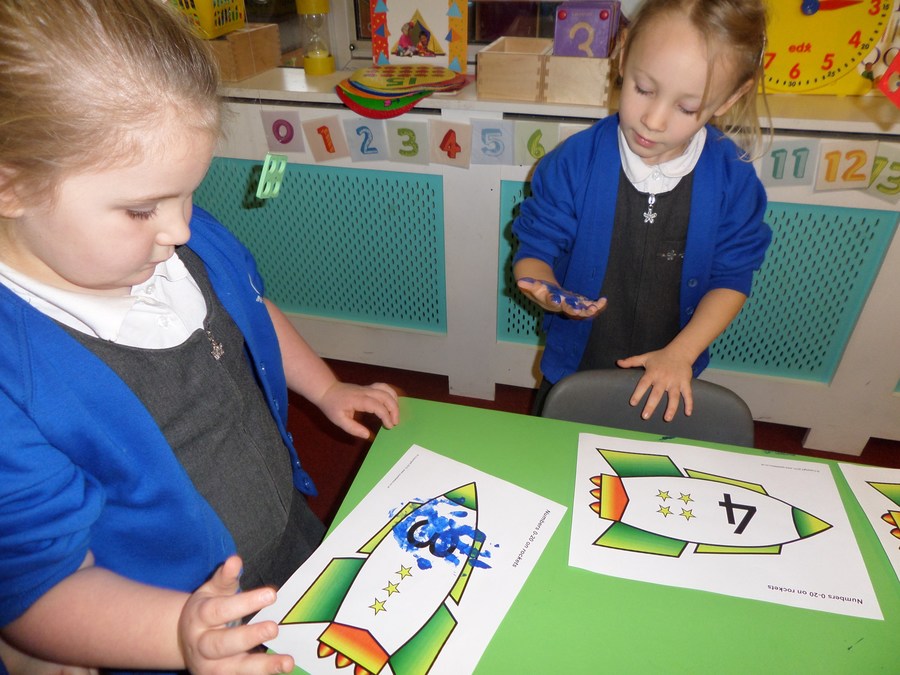 We visited Clacton Library to help the children in Early Years understand the services it offers and to develop a love of reading.
We enjoyed sharing books with our friends.
Some of us took some books back to school to share at home.
"Me and Harvey have got the same book"- Coby
"Come on Daisy, I'll tell you a story!"- Gracie
"Miss Saint is reading us a story!"-Callum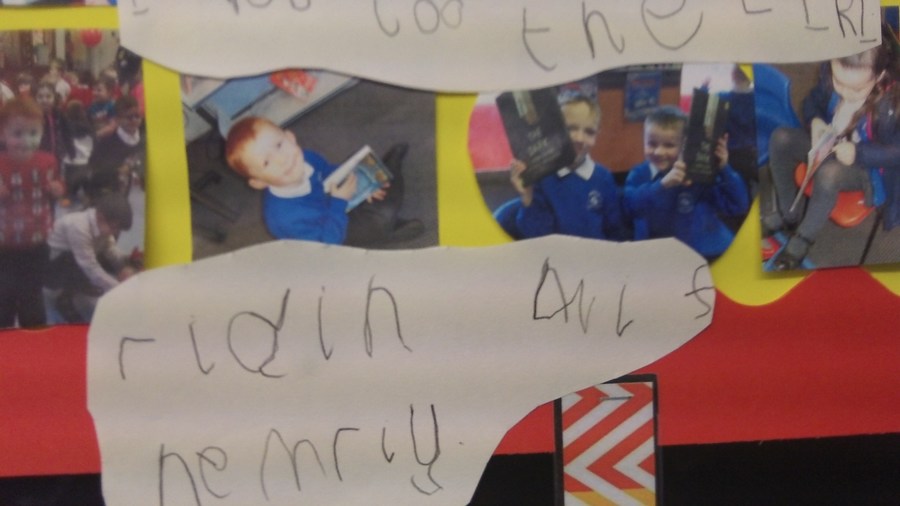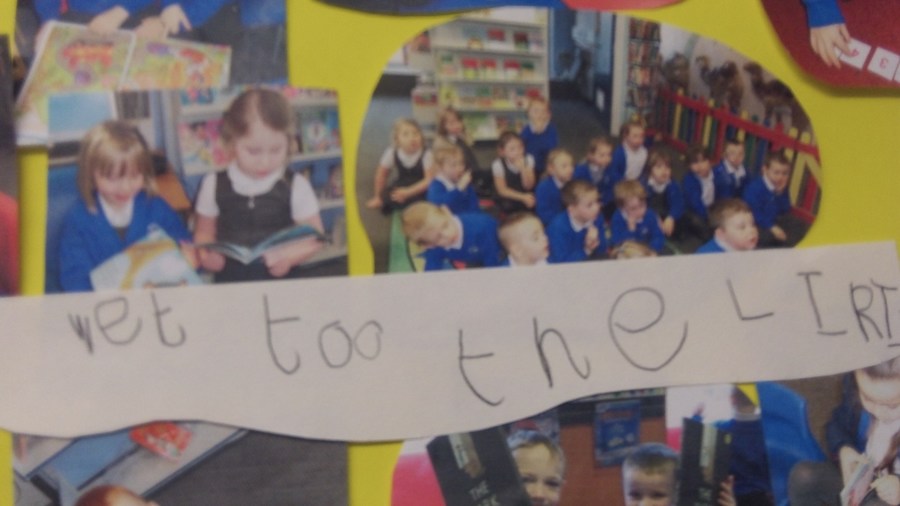 Rowan class were very lucky! As we had the best attendance record in the Autumn term Mrs Lingwood organised a special trip for Rowan class to go to Space Kingdom.
We all behaved exceptionally well and Miss Pargin and Miss Saint were very proud of us!
We had lots of fun playing with our friends. Some of the grown ups had nearly as much fun as us!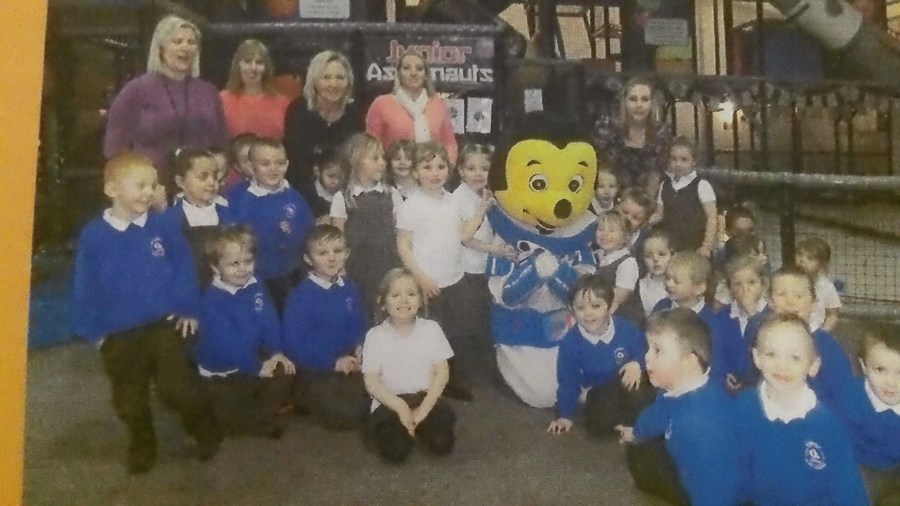 We held our next Family Friday and this time we had a focus on reading. Our grown ups were invited in to learn more about Bug Club, a program that we can use to read a range of texts at home. We looked at some of the 'Magic Key' stories with our grown ups and made our own magic keys. Miss Pargin showed some of the adults a letters and sounds session to help us understand how we learn to read and write at home.
What another busy term.... we are looking forward to a half term break before we begin learning about minibeasts and growing!
Autumn term 2
We have had a very busy term! We have learnt about Diwali and made our own Diwali patterns. We shared our experiences of watching fireworks on Bonfire night. We enjoyed finding out more about Remembrance Day and had a special visit from a member of the Royal British Legion. There has been lots of exciting extra-curricular learning that we have been getting involved in over the last few weeks!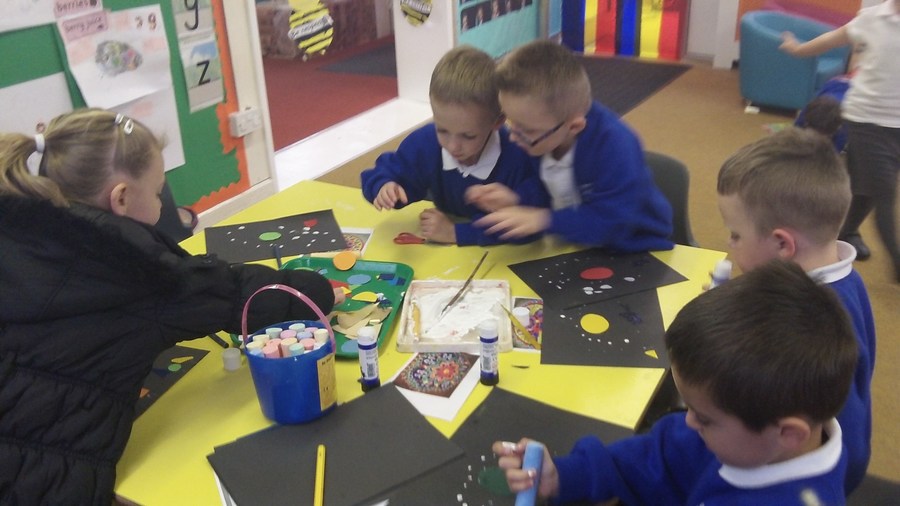 In literacy we have been learning about the story of the gingerbread man and we have set up our very own class bakery in the role play area!
We have retold the story using actions to help us remember it.
We have made gingerbread men and used our knowledge of numbers to help us weigh out the ingredients.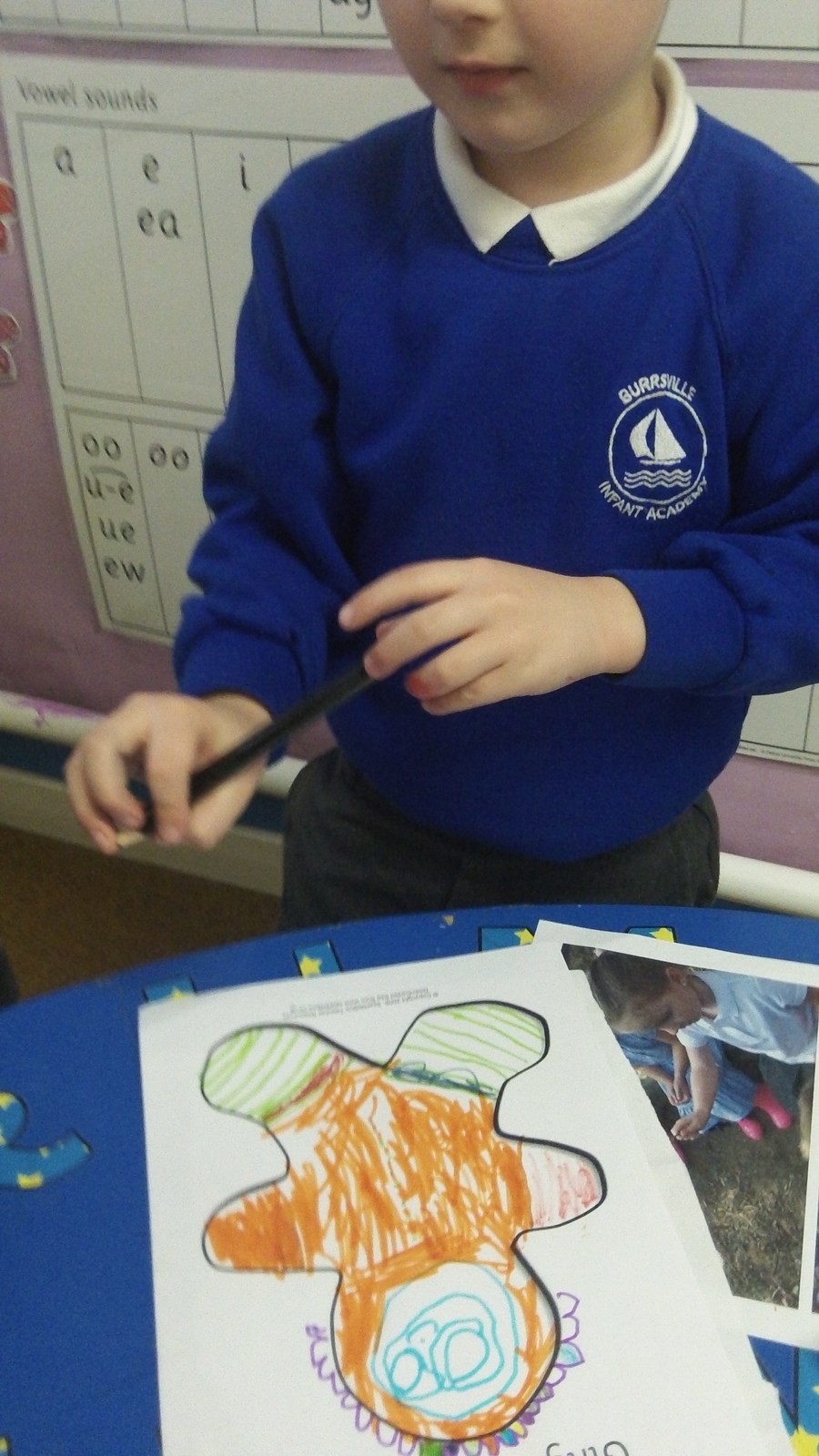 We recently went on a trip to the Clacton Tesco store so that we can learn more about some of the food we buy. We enjoyed looking in the bakery and tasting lots of food including gingerbread shapes, fruit and cheese and meat. Some of us were even brave enough to try olives and anchovies!
"I liked eating the gingerbread man"- Sophia.
"I like the bus"- Louis.
"I like it!"- Isobelle when trying the anchovies.
We are looking forward to showing our parents what we have learnt in our class assembly and at our next 'Family Friday'.
Autumn term 1
During our first few weeks of school we have enjoyed exploring our new classroom and outdoor area. We have all settled in really well and have been very good at remembering what we need to do when we come into school each morning.
We have been learning to write some letters and have been practising this inside and outside of the classroom. Some of us have shown the adults that we can write letters that are in our names!
"I can do H for Harvey"- Harvey.
"That's in my name"- Tyler pointed to a 't'.
"I can do the L and the e" - Lewis.
We have been learning what numbers are and have looked for numbers around the school.
"That's 100"- Owen.
"I can see number 11"- Ruby.
We are now learning about colours and we are enjoying hunting for them in the environment.
"We need a blue one because we haven't found that"- Ronnie.
"It's mostly red but a little bit blue"- Gracie.
We held our first 'Family Friday' and enjoyed showing our grown ups what we do at school and the activities we like to play.