Birch 2015/16
Welcome to Birch class!
Summer 1
Isn't it lovely now the sun is starting to shine! We have been busy bees in Birch class this half term. We had an exciting visit at the beginning of the half term.
We had a very fun two weeks when we were visited by some freshly laid eggs! The children watched the incubator intently for a couple of days and then success the eggs began to hatch! The children loved using the magnifying glasses to look closely and school cameras and Ipads to record the changes! The children were great segregate parents to the newly hatched chicks and helped to change the bedding, change their water and top up their food. It was a fantastic learning experience for the children and best of all the children all got a turn of holding a chick and watching as 10 cheeky chicks had 'free rein' in the classroom!
The children loved their work on the Percy Park Keeper stories by our author of the month Nick Butterworth. We decided to teach this through visual literacy, so we shared the stories with the children on the IWB. The children were able to watch and listen to the stories which they really engaged with. We were able to pause the videos and look closely at character feelings and emotions. The children loved role play with Percy and his animal friends and made a wonderful display of the writing they completed at the end of the unit.
We know how to celebrate the Queen's 90th birthday at Burrsville! The whole school celebrated with a special birthday party. We all gathered outside and bought in food and had a whole school buffet in the sunshine, complete with handmade bunting and our own crowns! We were later joined by our special visitor, Eddie the Eagle from Colchester United. Our parents and family members arrived and we enjoyed some quality playtime with them before the end of the school day. What a wonderful afternoon!
This term our maths work has involved working with numbers to add and subtract, double and halve. We also learnt to count in twos, supported by using Noah's Ark and the animal toys to tie in with the topic. The children were encouraged to 'whisper' the missing number to help them remember all of the even numbers in the sequence. The children ordered numbers using their knowledge of counting in 2s to make a 'twos number line'.
Spring 2
Another exciting half term in Birch class! We had fun learning about Mini-beasts and The Very Hungry Caterpillar! As part of our topic and to celebrate World Book day we went on a trip to the local Library and the Princes Theatre. Inside the theatre we learnt lots about how the lights and special effects help to create an atmosphere in a performance and we experimented with the microphones, speaking in clear voices. Together we performed a re-telling of The Hungry Caterpillar story!
After snack we crossed the road to Clacton Library. We listened to a story and the librarian explained to us how the books are organised and how to find a book. We enjoyed sharing a love of books with our friends and adults. Some of us used our library tickets to borrow a book!
Watch out the Aliens have landed!
As part of our Science week, we hosted an Alien day. We all got inventive with the tin foil and pom-poms and created Alien outfits! We enjoyed a fascinating visit from the planetarium and learnt lots about space, stars, shapes and patterns. During the Science week we investigated a crime scene! We also had a visit from science teachers at CCHS, who showed us how to make frothing elephant toothpaste and other exciting experiments!
To end the term we had a Family Friday all to do with maths around the home! We have lots of fun learning through play in Early Years and here are some of our best bits from our Mini-beast topic!
Spring 1
We had a great start to the year in Birch class, as we were learning about bears and the story 'Whatever Next!'. In the story baby bear goes on a journey to space. We dressed our teddy up with all the things he would need for a trip to space.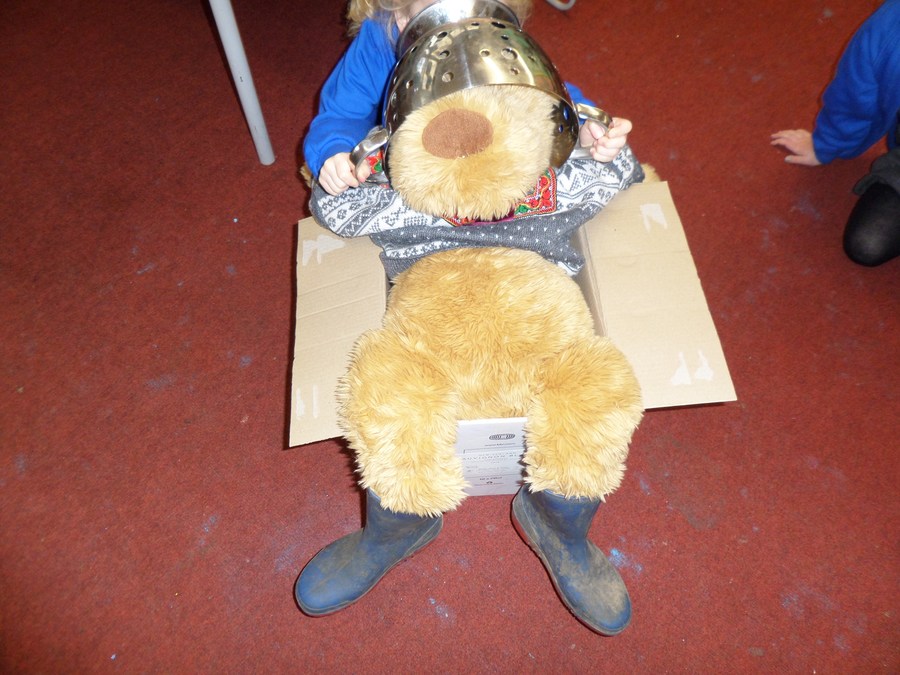 We got very excited on the investigation table as we hunted for objects using sieves, magnets and magnifying glasses in sand from planet 'Jupiter'.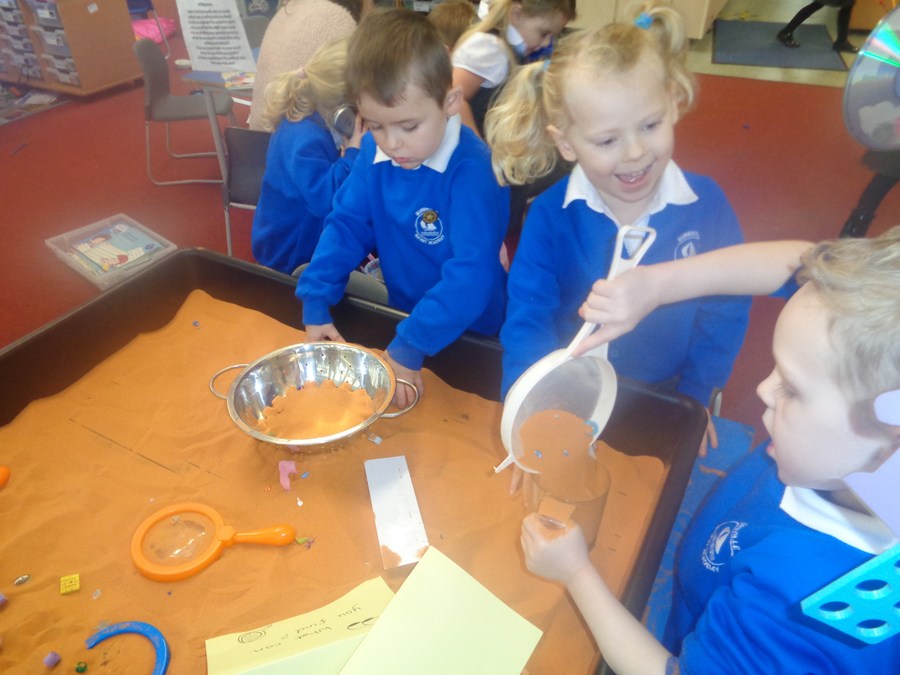 We hunted for numbered space balls in the red swamp!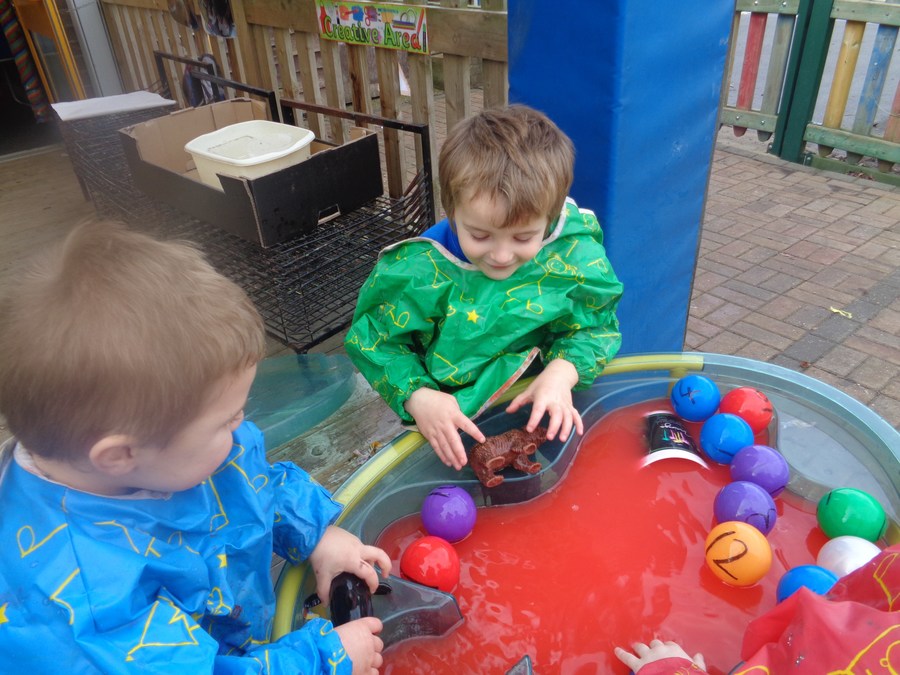 In February, we celebrated pancake day by following instructions and making our very own pancakes. Mrs Bollu flipped every one! We tasted different flavour toppings.
"That's sweet and scrummy" said Bluebell.
" I love the syrup, it's sticky" Callum commented.
" I'm good at cutting the lemon" said Olly.
The second celebration we studied was the Chinese New year. We made some Chinese new year cards, we learnt how to write our name in Chinese lettering. We made dragons and danced to Chinese style music and we even answered the register in Chinese!
Autumn 2
We started the half term with The Gingerbread man topic.
In Literacy we had lots of fun hunting gingerbread men around the school and reading the CVC words.
In Maths we followed instructions, weighed out ingredients and baked our own gingerbread men! Although they didn't run away we took them home and ate them up!
We also had an interesting school trip to Frinton-on-sea and visited a bakery. We saw the big ovens, different kinds of flours and how to fill a jam donut! Martin the baker let us stretch and knead our own dough, we all got very floury!
"It's so squashy!" said Gracie-Jayne
"Look how long that one is!" Levi said.
"A ball" Alfie commented.
During our trip we also visited the Co-Op and looked behind the scenes, we noticed how it was different to The Cake Kitchen bakery.
"The cakes are in the freezer" Emily remarked.
A few weeks later we listened to the story of The Gruffalo. We learnt the Gruffalo song with funny actions, which we shared with our parents and carers at our class assembly.
In the malleable area we made our own Gruffalo models using playdough and craft materials, some of us had an idea to cut up straws to make prickles!
Some of us went on a Gruffalo hunt in the forest to find words from the story.
We role-played being the Mouse and the Fox in Literacy and wrote some speech bubbles for what our character might have said.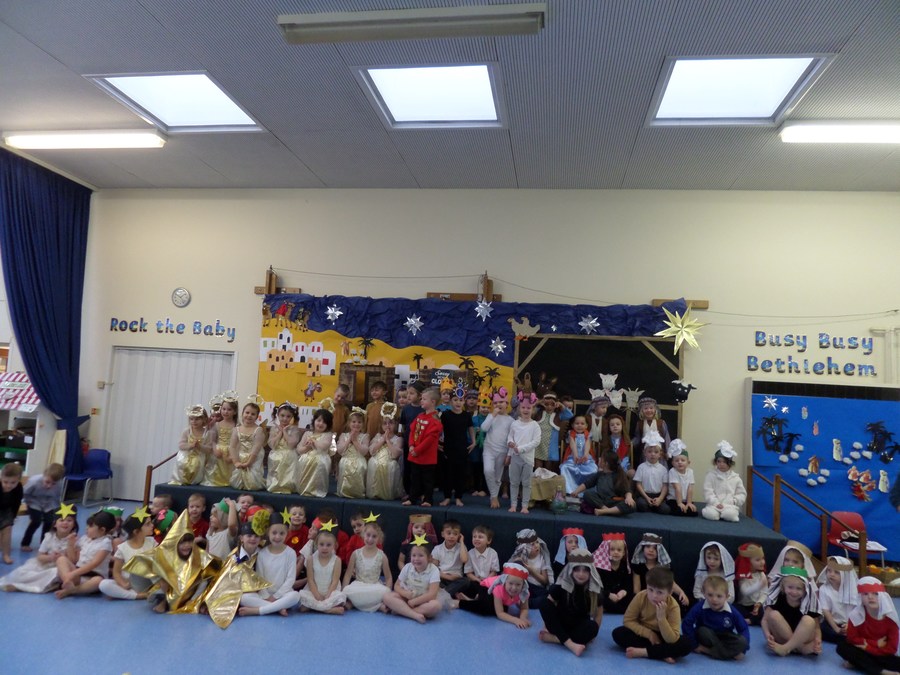 Enter text...
Christmas!!!
We had a fun few weeks at the end of the Autumn term preparing for our Christmas Nativity. We had songs to practise, words to learn and props to make. It was a wonderful performance, which our parents and carers enjoyed very much!
We were very excited opening our class advent calendars everyday on the countdown to Christmas. We made Christmas cards to take home and Christmas calendars to sell at our School Christmas Fair.
We practised our cutting skills by helping to wrap presents for Santa's sack and designed our own snowman pictures.
We had lots of fun outside in the water tray which got filled with shaving foam and Artic animals!
We even had time to visit Great Clacton junior school to watch their brilliant nativity play and a trip to the Princes theatre to watch the Aladdin Panto!
We went on a number hunt around the school.
What numbers can you find at home?
We have had lots of fun exploring our outside area.