Summer term.

We have been very busy since our class page was updated. We have learnt many new things and had lots of fun. Some of the fun things that we have been doing have included dressing up for world book day, and experimenting with crazy hair to raise money for Great Ormond street hospital.
During our work on the Great Fire of London we all became experts on the cause, effect and order of events of the fire. We used books and the computers to look up lots of interesting facts, and enjoyed roleplaying how the fire started.
During our topic of "Londons Burning" we were lucky enough to have a visit from the fire service. We all got to look at the fire engine, have a go using the fire hose and to ask lots of questions. It was fantastic!!
We all enjoyed taking part in "Science Week" this year. Cherry class planted cress. (It did not grow very well!) We also pretended to be forensic scientists. We liked wearing our white lab coats, and looking for finger prints. Our favourite part of science week was Alien Day. We all came to school dressed like an alien, and had a visit from a planetarium. We liked to look at the stars and learn about space.
Another of our favourite adventures this year has been our school trip to Cudmore Grove. We explored fields, the beach and a forest to see what plants and animals we could find. We all listened carefully to our park ranger and were all very sensible. We found lots of snails, and were able to name some of the different plants that we could see around us. We can now identify the different parts of a variety of plants, and explain what each of this parts does.
Our summer term topic is "Animal Magic" We are all enjoying this topic very much! We have looked at many different types of animals and have practiced sorting them by their diet, appearance and their habitat. Many of Cherry class have pets of our own. We have been able to explain to our friends how we take care of our animals and the different things that we need to do to keep them safe, healthy and happy.
Recently we have celebrated the Queens birthday by having a big party. We loved the chance to wear our special clothes to school and learn about the Queen. We all ate lots and lots of food!!
We only have a short while left in Year 1, and are all working harder than ever! We have practiced many different skills in our maths lessons, including addition, subtraction, multiplication and division. We have also enjoyed learning about weight, capacity and length. We like to do lots of practical work (and get a little soggy!)
To help us learn even more about animals we will be going on a school trip to Hastys farm. We will get the chance to meet lots different animals, and we are already thinking of questions we would like to ask about them.
This week we will be doing our last class assembly of the year. We hope you can make it!
Spring 1!

This term our topic is The Great Fire of London, we are all looking forward to learning lots about this! We will be using our knowledge of non - fiction books to help us become fantastic historians, and we will be able to share many facts with our friends and families. We will be learning about London and the other capital cities in the UK during our Geography lessons, and exploring materials in science. This will link in with our English unit on traditional tales, where we will be looking at lots of different stories including The Three Little Pigs.
We look forward to seeing you for our next class assembly!
Autumn 2!
We have had a very busy first term in Year 1, and have learnt lots of interesting things!
We completed our first class assembly together and made our Mums, Dads and grown ups very proud of us. We all spoke in our loudest voices, and made sure we knew the actions to go with our song. We were able to show all of our friends all of the things that we have been doing in Cherry class. We even made bone biscuits to share afterwards.
We have all enjoyed our English lessons so far this year. We have looked at, and listened to lots of stories with familiar settings. Our favourite stories are the Charlie and Lola book series. We think that Lola is very funny. We planned our own stories with familiar settings to act out, and then wrote them. They were brilliant!!
In our English lessons we have also looked at the difference between fiction and non - fiction books. We were able to sort a selection of books depending on if they were fiction or non - fiction, we can explain how we know this. We looked at non-fiction books about the Gunpowder Plot, and used these to help us sequence the events and act out what happened.
We also used non - fiction books and the internet to help us find out lots of information about Florence Nightingale. We then used this information to write our own fact files about her. We can explain many of the features of a non - fiction text and tried to include as many as these as we could in our fact files.
We love books in Cherry class, and enjoy listening to lots of different stories. Some of us have brought our favourite books to school to share with our friends. We have been trying very hard to remember to read at home and collect as many Dojos as we can.
We have also been working very hard in maths this term, we have learnt about time, money and 2D and 3D shapes. This has been very exciting and we have completed lots of practical activities to help us learn.
We can name a variety of 2D and 3D shapes, and are beginning to be able to describe the shapes by their properties. We played "guess my shape" by hiding shapes in a bag and describing them to our friends to see if they could guess what we were holding. We have also practiced sorting shapes, playing shape bingo and looking for different 2D and 3D shapes around school.
We are able to recognise many different coins. We played lots money games to become familiar with the coins and their value. We are also able to make totals in different ways using the coins. We have pretended to sell lots of things in school, and can check that our friends are giving us the correct total of money. We are even able to problem solve using money!
We really enjoy exploring numbers and problem solving, and will keep on practicing these skills. We are getting more confident everyday with reading and writing numbers. We are able to add and subtract using different resources to help us. This term we will be learning about odd and even numbers, doubling, halving, multiplication and lots more!
We all had lots of fun towards the end of term and were so excited for Christmas! We learnt about the Christmas story in RE and were able to act it out, and re-tell it with our friends.

We typed our own Christmas cards in our computing lessons, and used Google to find an image to put on the front.

We were also very creative and made lots of fantastic things to take home. We loved having the opportunity to make things sparkly and used lots of glitter and paint!

We all had lots of fun at our Christmas disco, and did lots of singing and dancing.

We worked very hard to learn the songs for our Christmas Nativity, and performed them brilliantly.

After all of our hard work this term, we went to go to the panto to see Aladdin. We were very, very good on our trip, and all of the adults were very proud of us!
Autumn 1!
We have all settled brilliantly into the new school year, and are looking forward to learning lots of exciting things.
This term our topic is "All About Me." We have been very busy learning about our body, talking about what makes us special, and creating lots of fantastic pictures of ourselves.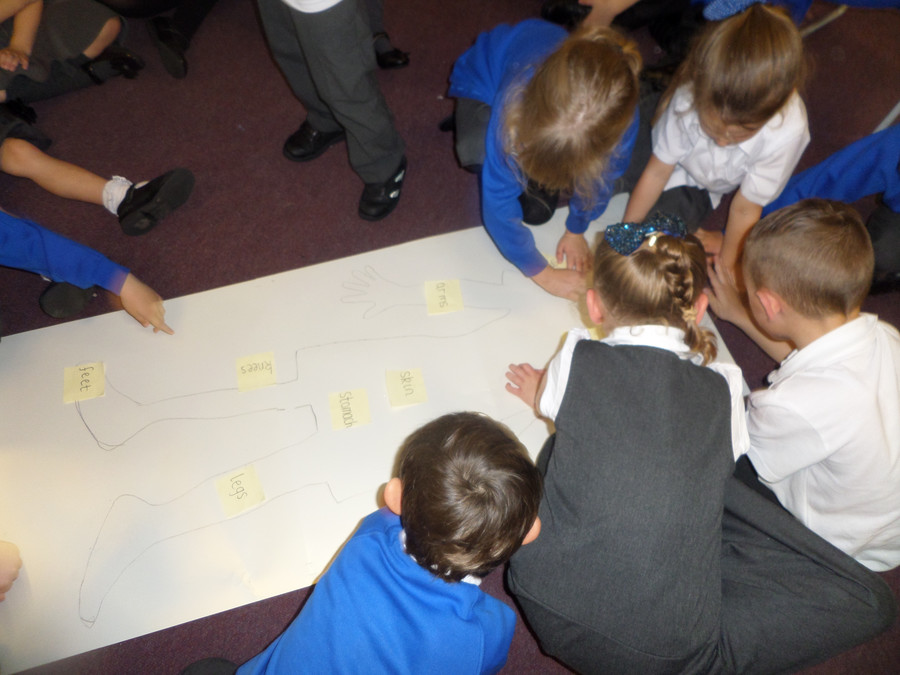 We drew around our friend Tamsin, and then labelled her body!
In English we have been learning about stories with a repeating pattern. We have enjoyed reading "The Little Old Lady Who Was Not Afraid Of Anything." We have acted out the story, created actions to help us re-tell it, and thought about how we might feel if we were walking in a spooky forest! We have completed lots of fantastic writing and are all very proud of our work.
Kaiden loved pretending to be in the forest to scare the little old lady!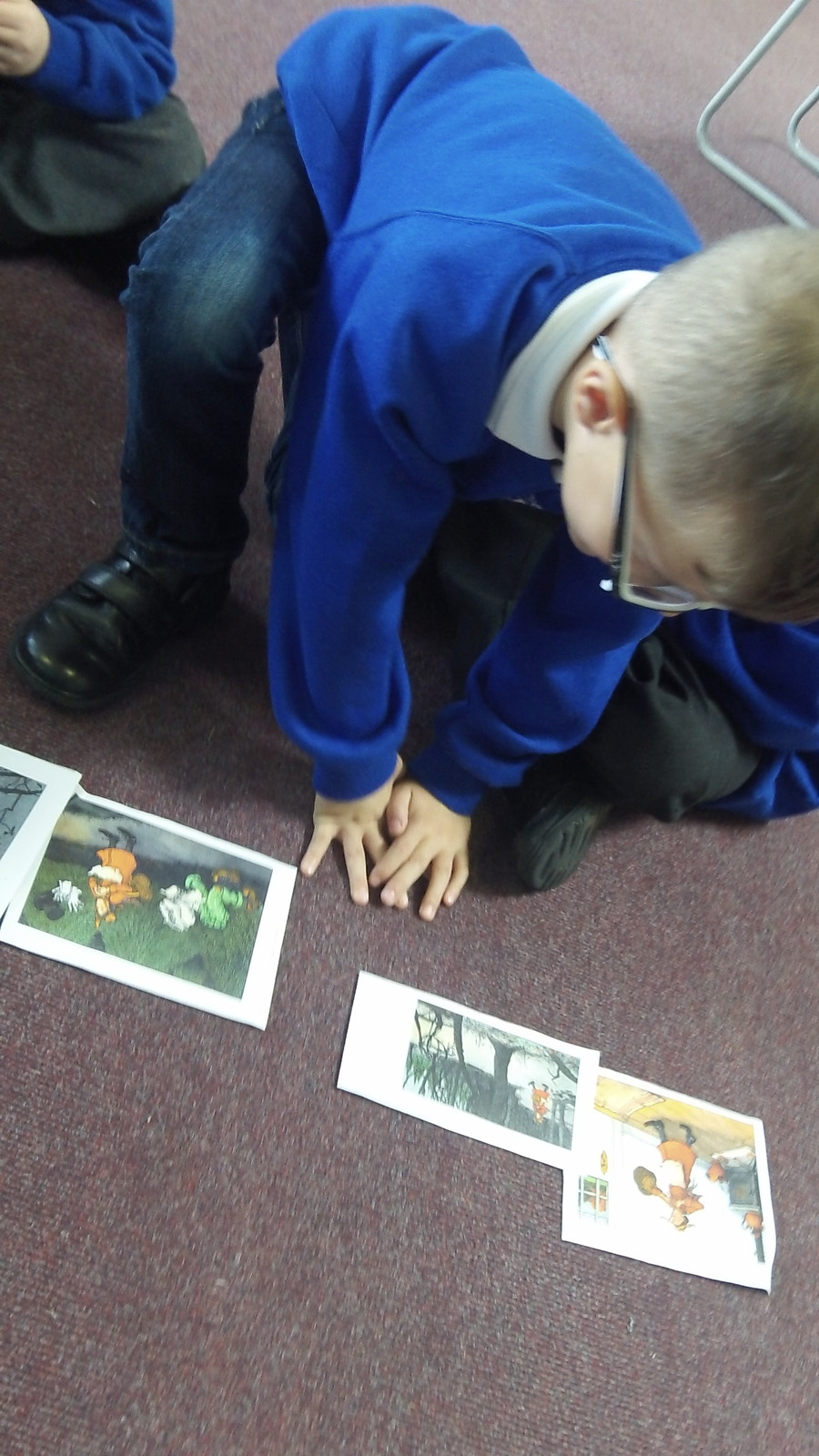 Jack enjoyed ordering the pictures from the story, and using them to re-tell it to his friends.
In Maths we have been exploring shape, colour, and number patterns. We have used Numicon, Compare Bears, Multi-link, and lots of other resources to help us. We are very good at creating own patterns. We can talk about the patterns that we have made, and challenge our friends to continue each one for us.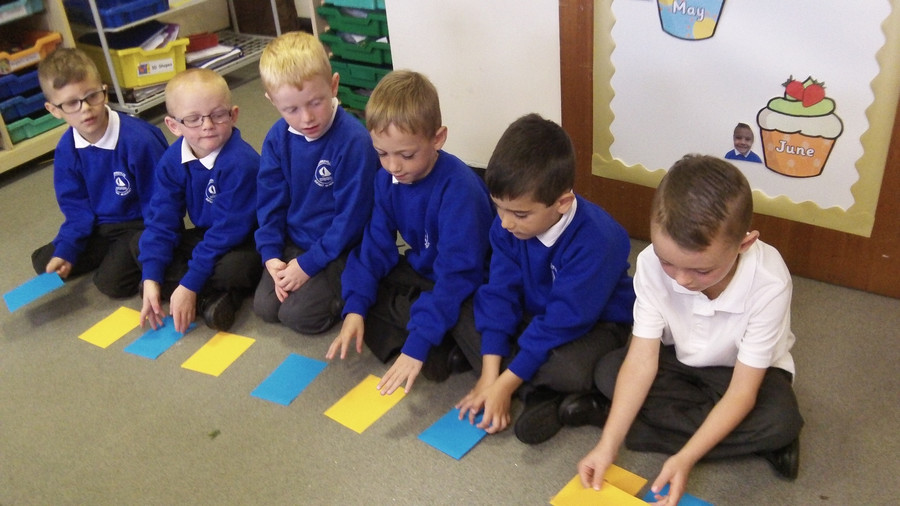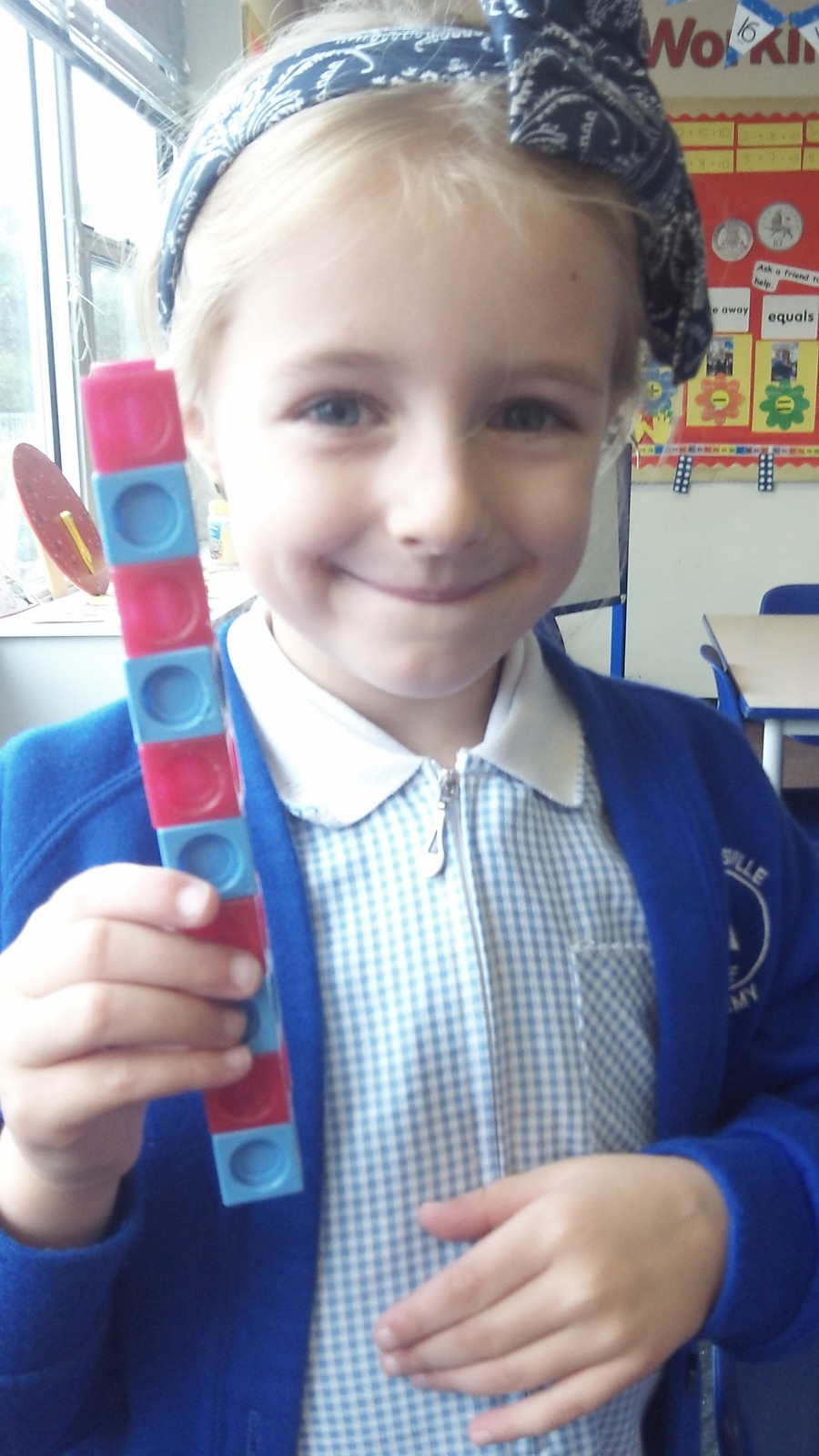 We have also been very busy outside of the classroom. We have been learning about maps in Forest Schools, and can explain why and when we use them. We have even created our own maps of the forest! Our Forest Schools day is Thursday, so we are trying very hard to always remember our wellies, coat and spare clothes!

In PE we have been learning how to play rugby, we are all eager to practice and to learn even more! We have nearly all remembered that we must take out our earrings, and are looking forward to practising outside in our tracksuits and trainers!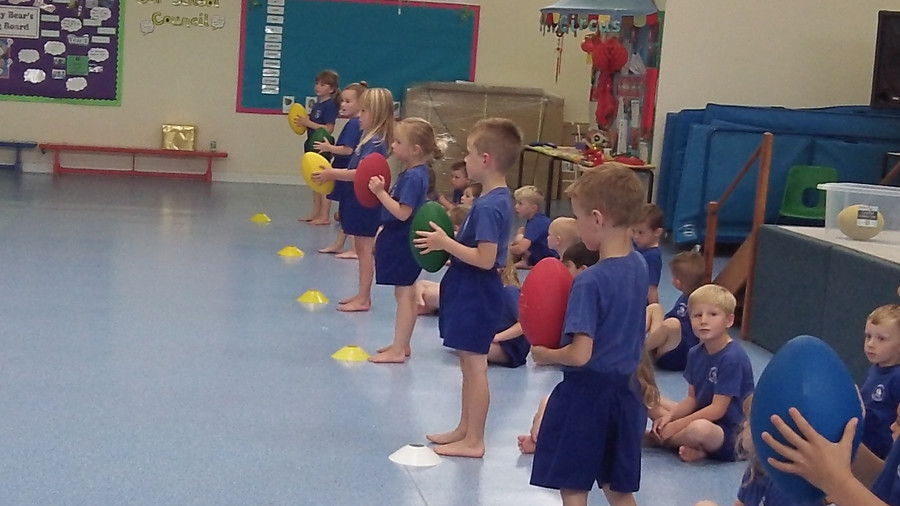 We are all looking forward to the year ahead and all of the new, and exciting things that we will do and learn about. Take a look at our curriculum map to see what we will be up to.