Summer term
We've been enjoying the warm weather at last in Burrsville! This summer term our topic has been 'Animal Magic!' Our classroom has turned into a jungle with a safari role play area, snakes hanging from vines, and scary looking animals to welcome you into our class!
We have been doing lots of research using our school library and the ipads to find out information all about animals. We have been learning to become talented drawers too. In our art lessons we have been learning key drawing skills such as drawing to scale and how to shade.
In Geography we have been comparing Clacton on Sea to a non- European country. We linked our learning to the different animals that are in Kenya in comparison to Clacton, as well as using key geographical language. We have written post cards to Miss Siggery to tell her all about the places we have 'visited'!
In science we have been learning what herbivores, carnivores and omnivores are. We have had lots of fun sorting animals in different ways, labeling the body parts of an animal, and we are looking forward to our school trip to Hastey's farm to apply all our knowledge on animals to a real life context!
We have been making the most of the warm weather and have been going outside to learn whenever possible. We have enjoyed sorting, using chalk and role playing in the sunshine! Let's hope it stays this way! In maths this term we have been working on our multiplication and division skills, counting in multiples of 2, 5, and 10 as well as revisiting 3D shape. We had great fun learning about measure too. We used our capacity skills to problem solve- and to get a bit wet!
We all loved seeing so many of you for our Queen's birthday tea party before the half term. We had a great time making decorations and party hats and enjoying all the lovely treats you so kindly provided.
We had a lovely time at Cudmore Grove with Cherry class at the beginning of the summer term!
The weather was great and so was everybody's behaviour. I was very proud of how sensible and grown up Oak class were. We learnt some fun songs all about plants, and wowed our park ranger with our knowledge of the parts of a plant and the different kinds of plants. We did some great bark rubbings and worked in teams to make our own plant collage using the materials that we found on the beach!
Spring 2
Wow, this term has flown by! The sun is starting to shine now, and the children took their cress home today that they have been growing as part of our science unit 'Plants'. We learnt all about what plants need to grow, and Sky told me she took hers home and made sure it had water, light, air and space!
Any photos of your children eating their cress would be gratefully received!
We have been learning about poetry in English this term, and have been busy writing tricky riddles, writing haikus that follow a 5,7,5 syllable structure, and using lots of adjectives to make our writing interesting. We all know how many syllables are in our names!
In maths we have been enjoying recapping telling the time, money, and how to divide. We are good sharers in year one!
We can read o'clock and half past times, we recognise coins and notes, and can work out the value of different amounts of coins. We can also divide by sharing objects, pictures and arrays. Cubes and counters help us.
We played a game to find out how many syllables are in different words, and planned our haikus before writing them to make sure they had the correct amount of syllables in them.
We grew cress and had to make sure they had lots of light, space and water so they would grow. We can't wait to eat our cress!
We have enjoyed learning the Easter story in our R.E lessons as well as making our Easter cards. This week we had a special assembly all about the week leading up to Easter Sunday. We were able to share all we had learnt about the meaning of Easter. Happy Easter to everyone from Oak Class!
Some of Oak class are part of Glee club and have been practicing hard along side their fellow Glee club members in Cherry, Willow and Elder. We have been practicing all term to take part in a concert at the Princes Theatre. Last night we took to the stage for our second performance. Our Burrsville children did us all proud and I could see lots of smiling faces watching their amazing singing. Well done Glee Club!
Last week was our second class assembly and it was great to see so many of our adults come support us and to hear about what we have been learning. We look forward to our next one in July!
Spring 1
This term we are going to be very busy. Soon you'll be hearing all about our history topic 'The Great Fire of London' and we will also be looking at traditional tales in English. In Geography we will be researching about capital cities, and we will have our scientist hats firmly on for our new unit on materials!
Take a look at our curriculum map at the bottom of the page to see what else we plan to do this term, and keep an eye out for when our Spring term class and golden assemblies are!
Autumn 2
We've been working hard this term leaning about the differences between fact and fiction. We started off by learning about familiar texts and enjoyed reading some Charlie and Lola stories. Lewis wrote his own familiar setting story about going to a chip shop on a sunny day, and Daisy and her group made a role play about animals at the zoo!
Then we compared our favourite fiction books to some non fiction books about the Gunpowder Plot. We learnt lots about the Gunpowder plot by sequencing the events, acting it out, and writing about how everyone has different ideas like Guy Fawkes and King James 1 did. We also thought about how we should act when someone has different ideas to us.
In maths this term we have been learning to partition and tell the time. We played what's the time Mr Wolf in the forest, bingo, and made different o'clock and half past times in lots of different ways!
We also learnt about 3D shapes. We found some around the school, worked out tricky problems using 3D shapes, and sorted 3D shapes that we found in our classroom!
In computing this term we have been practicing our typing skills. We typed out Christmas cards for our families and copy and pasted images to make them festive too!
We were very excited about Christmas and had great fun learning the Christmas story, as well as our songs for the Nativity with the rest of the school. We hope you enjoyed watching us as much as we did performing it for you!
On our last day of term we went to see Aladdin at the theatre. We joined in with lots of songs, stomping, clapping, booing and cheering!
Click on a photo below to see us in action!
Autumn term 1
We have had a great couple of weeks together so far in our new classroom, and it is lovely to see so many enthusiastic smiley face every morning!
We started the year off perfectly by winning Fredrick the frog for such fab behaviour all week. Well done Oak Class!
This term our topic is 'All About Me'. We have already been busy learning all about our body in science, what makes us special in R.E. and having fun in our doctor's surgery role-play area!
We have been very creative filling silhouettes with pictures of our favourite things and hobbies so that we can all get to know each other too. Pop in and have a look!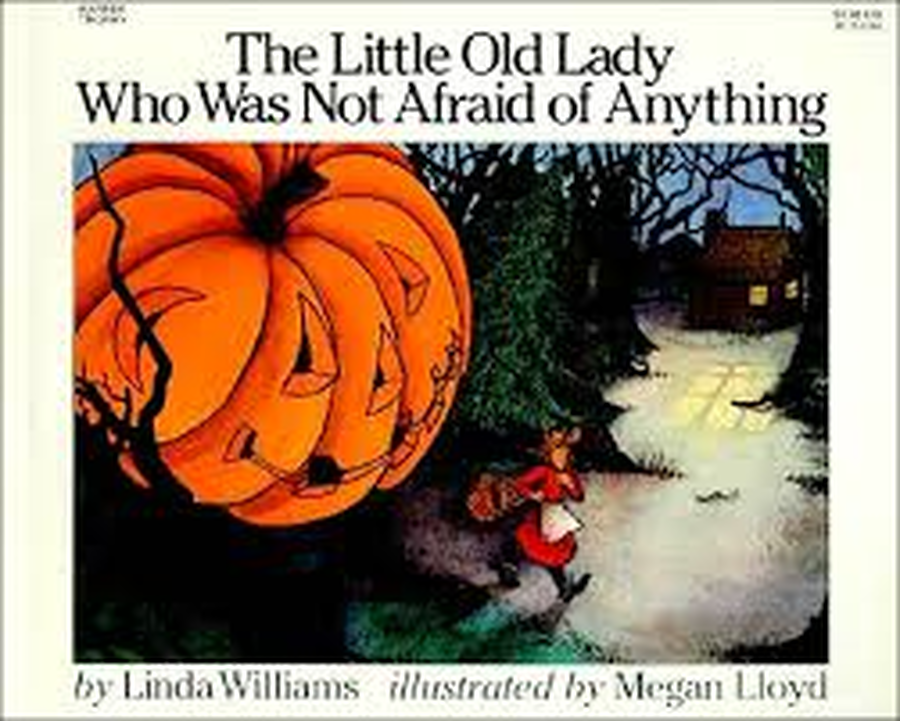 In English we have been learning about stories with repeating patterns. We have really enjoyed our story 'The Little Old Lady Who Is Not Afraid of Anything'. We have been acting it out, sequencing it, going on story walks into the forest, and writing about how she might be feeling in the dark wood!
Enter text...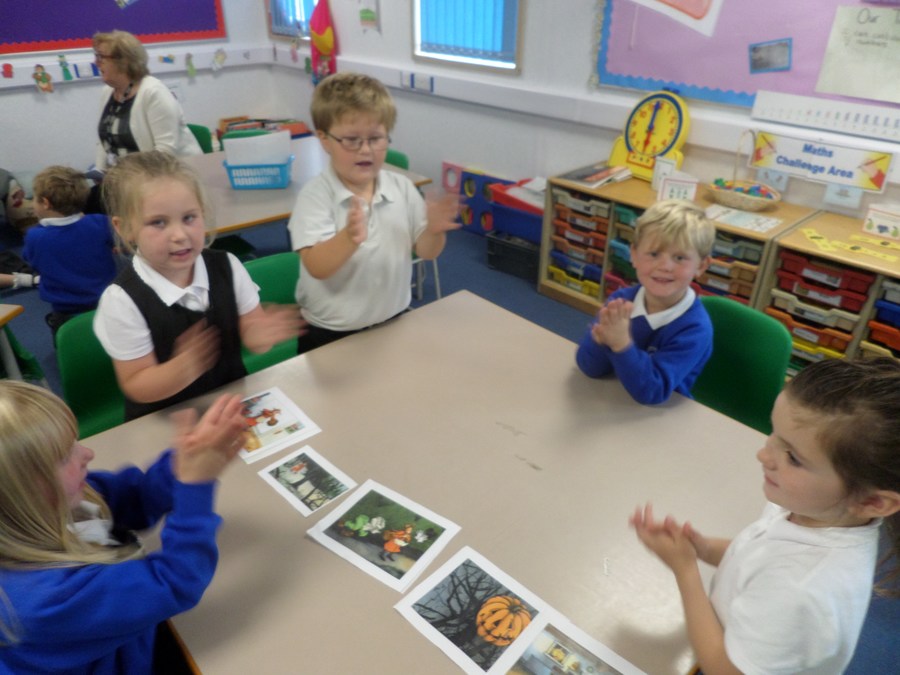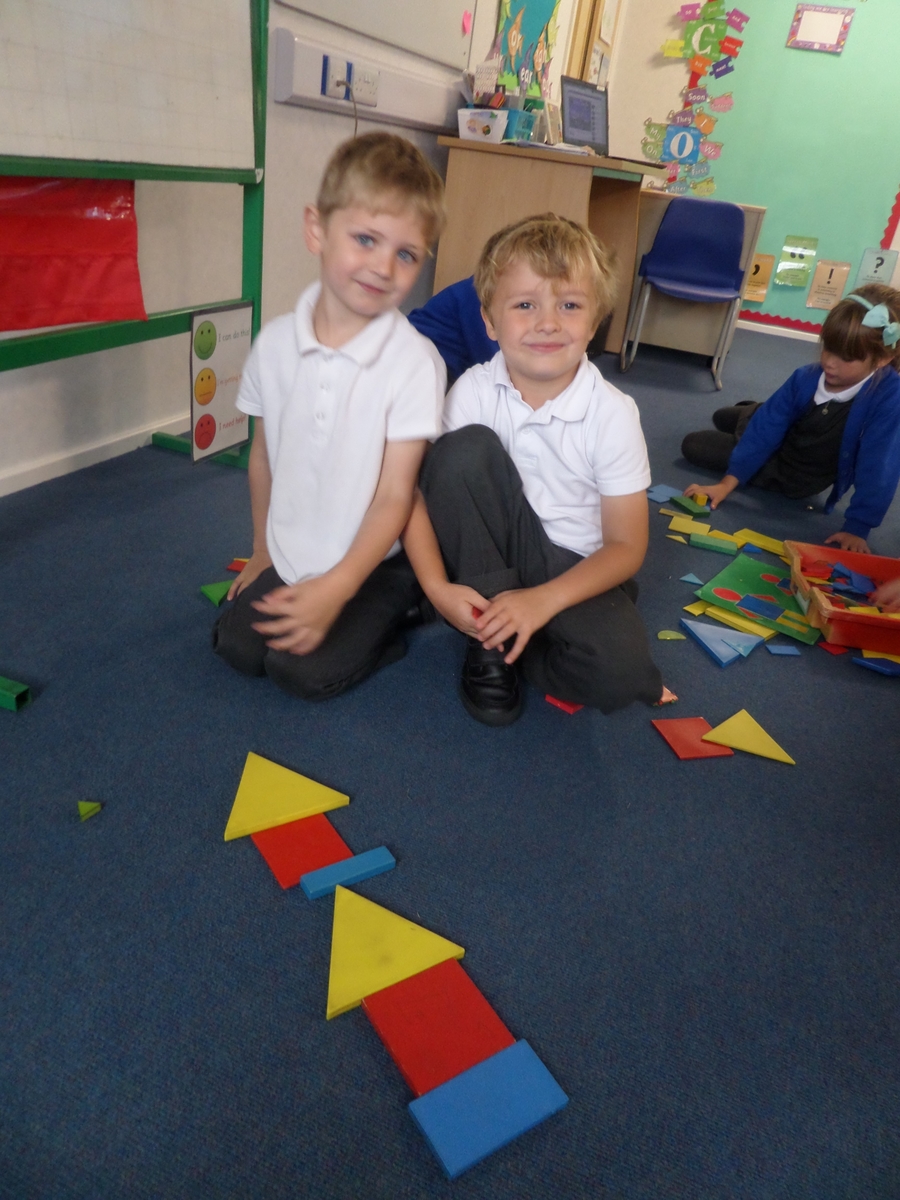 In Maths we have also been looking at repeating patterns and sequencing. Inside and outside the classroom!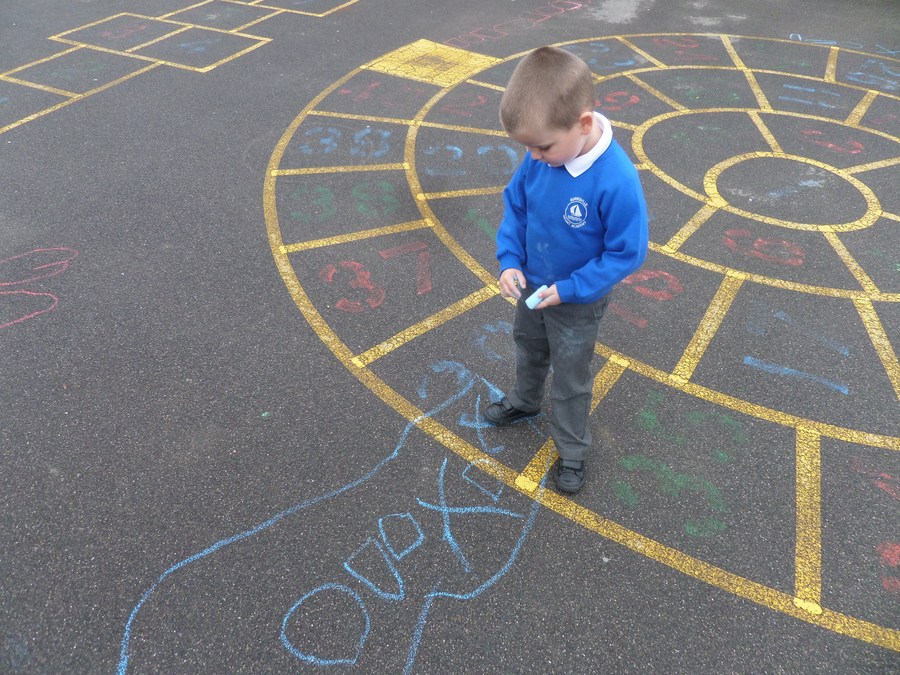 It was lovely to see so many parents at our Harvest Festival which was held on 22nd October. Keep an eye out for dates of other celebrations and class assemblies in our weekly newsletters and our calendar.
P.E - Monday. No earrings please!
Forest schools- Wellies with names on please!
Spellings- Every Friday. Please send you child into school with their blue spelling book on Fridays so we can put their new spellings in them. Thank you.
Autumn Term Assembly Wednesday 18th November
We were very confident performing our first class assembly in Year 1!